The Battle Against Hunger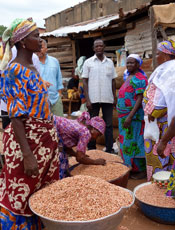 Hunger kills more children than AIDS, malaria and tuberculosis combined. In Africa, one child dies every six seconds from the effects of malnutrition. In an effort to combat this scourge, Birdsong has partnered with Project Peanut Butter (www.projectpeanutbutter.org) and others in a coordinated effort to wage war against childhood malnutrition.
The most vulnerable are children between ages one and three who are severely malnourished.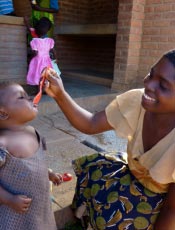 They need immediate help to avoid starvation or physical and mental defects. Until the late 1990's, standard treatment for such children was milk powder which had to be administered in a clinic. Results showed the milk cure rate was less than 25% of the children.
To improve the outcomes, American pediatrician Mark Manary, MD has since centralized his work in Malawi, a small country in southeast Africa. In 2001, he set a goal of "fixing malnutrition for kids in Africa." In collaboration with Andre Briend, a scientist, they developed a peanut-based paste made up of peanuts, milk powder, sugar, oil, and micronutrients. This Ready-to-Use-Therapeutic Food, called RUTF, has revolutionized the treatment of malnutrition in children.
The Food of Life
You've probably never heard a good news story about malnutrition, but you're about to. Every year, malnutrition kills five million children - that's one child every six seconds. But now, the Nobel Prize-winning relief group "Doctors Without Borders" says it finally has something that can save millions of these children.
It's cheap, easy to make, and even easier to use. What is this miraculous cure? As CNN's Anderson Cooper reports, it's a ready-to-eat, vitamin-enriched concoction called "Plumpynut," an unusual name for a food that may just be the most important advance ever to cure and prevent malnutrition.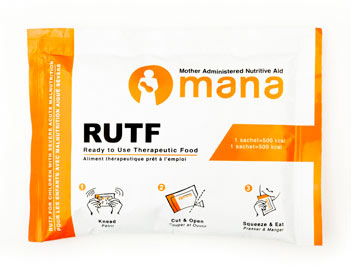 When Dr. Manary started treating kids with RUTF, the cure rate jumped from less than 25% to over 90%. RUTF offers the further advantage of being used as a home-based therapy so parents can treat their own children rather than admitting them to a clinic with scarce bed space.
RUTF treatments last only six weeks, but the cure is permanent. Researchers have followed up with patients three years after treatment to find they were still healthy. The World Health Organization has labeled RUTF an "essential medicine." Most others simply call it "a miracle."
Birdsong is working with Dr. Manary and other providers to increase production and distribution of RUTF throughout Africa. We are raising funds, donating equipment, funding research and helping local farmers in Malawi to improve their crops. There is no doubt that Project Peanut Butter is bringing solutions to improving health outcomes around the world.